How Often Should You Change Your Oil?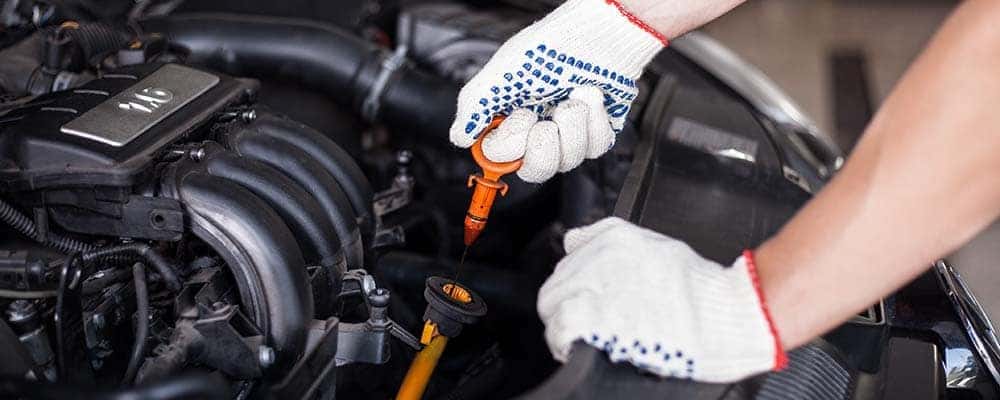 ---
Regular oil changes help maintain the health of your vehicle. Previously, Land Rover experts would recommend an oil change every 3,000 miles, but thanks to advances in engine technology and oil, that interval has now been extended. Now, most vehicles can go between 7,500 and 10,000 miles between oil changes. With that said, it's good to refer to your vehicle's owner's manual for specific instructions about your vehicle's oil change frequency.
Oil Change Frequency Details
Keep in mind that 7,500 to 10,000 miles is just a guideline and that certain vehicles need an oil change performed sooner. Look at the list below, and if any of these circumstances apply to you, be sure to visit the Land Rover Wilmington service center:
Off-roading
Commercial use
Racing
Heavy towing
Additional Oil Change Tips
Before visiting our service center near Middletown, peruse these facts about oil changes and oil change frequency. If you have any questions, contact our service center.
Don't drive your vehicle that often? An oil change is needed at least twice a year. Oil breaks down over time, even when the car is not being used.
When the oil gets changed, make sure the oil filter gets changed as well. You can always visit the parts department at Land Rover Wilmington for an oil filter to handle the oil change at home.
Are you wondering whether to use synthetic vs. conventional oil? Refer to your owner's manual for specific information. Synthetic oil can cost more, but it is required with some vehicles.
When to Check the Oil Level
Check your oil level at least once a month to catch any leaks in the oil system. Without oil, your vehicle can get damaged. Inspect for any changes in the oil's color and the appearance of any metal particles in the oil. Both are signs of major problems that should get taken care of right away. If needed, schedule a service appointment today.
Learn More About Oil Change Frequency at Land Rover Wilmington!
At Land Rover Wilmington, we know how expensive automotive services can get, which is why we offer excellent prices on oil changes and service coupons for added savings. Give us a call with any questions about oil changes, our available coupons, to learn the difference between synthetic vs. conventional oil, how if you need a little guidance with fixing a dent on a car!